Lidl Ireland Helps to Absorb up to 12,500 Tonnes of Carbon Through Native Woodland Scheme
Retailer Celebrates Earth Day with Planting of 82,000 Native Trees
As part of their sustainability strategy, 'A Better Tomorrow', Lidl Ireland has committed to a native tree planting partnership with the Department of Agriculture, Food and the Marine. The 'Woodland Environmental Fund' (WEF) initiative sees Lidl plant over 82,000 trees across Ireland in 2020. The move comes as Lidl seeks solutions to meet expanding climate and biodiversity challenges. The first and largest of the native woodland sites has completed planting in Burnellstown, Co. Westmeath where almost 33,000 trees were planted ahead of Earth Day which takes place on Wednesday 22nd April.
Working closely with Sustineo, a carbon and energy consultancy, forestry companies and the Department of Agriculture, Food and the Marine, Lidl will support a new native woodland in Co. Westmeath. Lidl's involvement in this initiative will expand their 'A Better Tomorrow' Corporate Social Responsibility (CSR) strategy which is already working to reduce carbon emissions through certifying the company's new stores across the country to an ISO 50001 Energy Management Standard. This project is intended to absorb approximately 12,500 tonnes of CO2 from the atmosphere and to compliment the landscape as a protected native woodland. Lidl has also undergone a comprehensive carbon footprint mapping to understand environmental impacts, develop solutions and work with supermarket's value chain in supporting the overall sustainability strategy.
The Minister of State at the Department of Agriculture Food and the Marine, Andrew Doyle said "I would like to congratulate Lidl for joining my Department's 'Woodland Environmental Fund'. Creating new forests is by far the best land use activity for taking carbon from the atmosphere and today Lidl has given their support to creating a new 10-hectare woodland. This forest will help to recreate the type of ancient woodland that once covered the Irish landscape thousands of years ago and will also make a huge contribution to improving Irish biodiversity. We need leaders in climate action like Lidl, businesses that are willing to get behind new innovative schemes like the WEF and I would encourage others to consider joining also".
Commenting on the initiative, J.P. Scally, Managing Director at Lidl Ireland and Northern Ireland said: "Our CSR strategy is at the core of our business and we're always looking for ways we can expand it. As we're fully committed to ensuring we drive positive change not only for our customers but the environment as well, we're pleased to be involved in the Woodland Environmental Fund initiative and to be working closely with the Department of Agriculture, Food and the Marine by helping to restore a richer biodiversity in Ireland through our contribution to reforesting our countryside." 
Across Lidl's 163 store network nationwide, all new stores are built with sustainability in mind and incorporate a selection of environmentally friendly features including an ISO 50001 certified Energy Management System, a solar panel system and two electric vehicle charger spaces, enabling customers to charge their electric vehicles free of charge whilst they shop. All Lidl wood products are certified FSC or PFC or coming from recycled wood sources. Lidl Ireland is also signed up to the All-Ireland Pollinator Plan and reports annually on its biodiversity actions including green roofs on suitable stores, a wildflower meadow at their Newbridge Distribution Centre and an ever-expanding pollinator friendly plant range.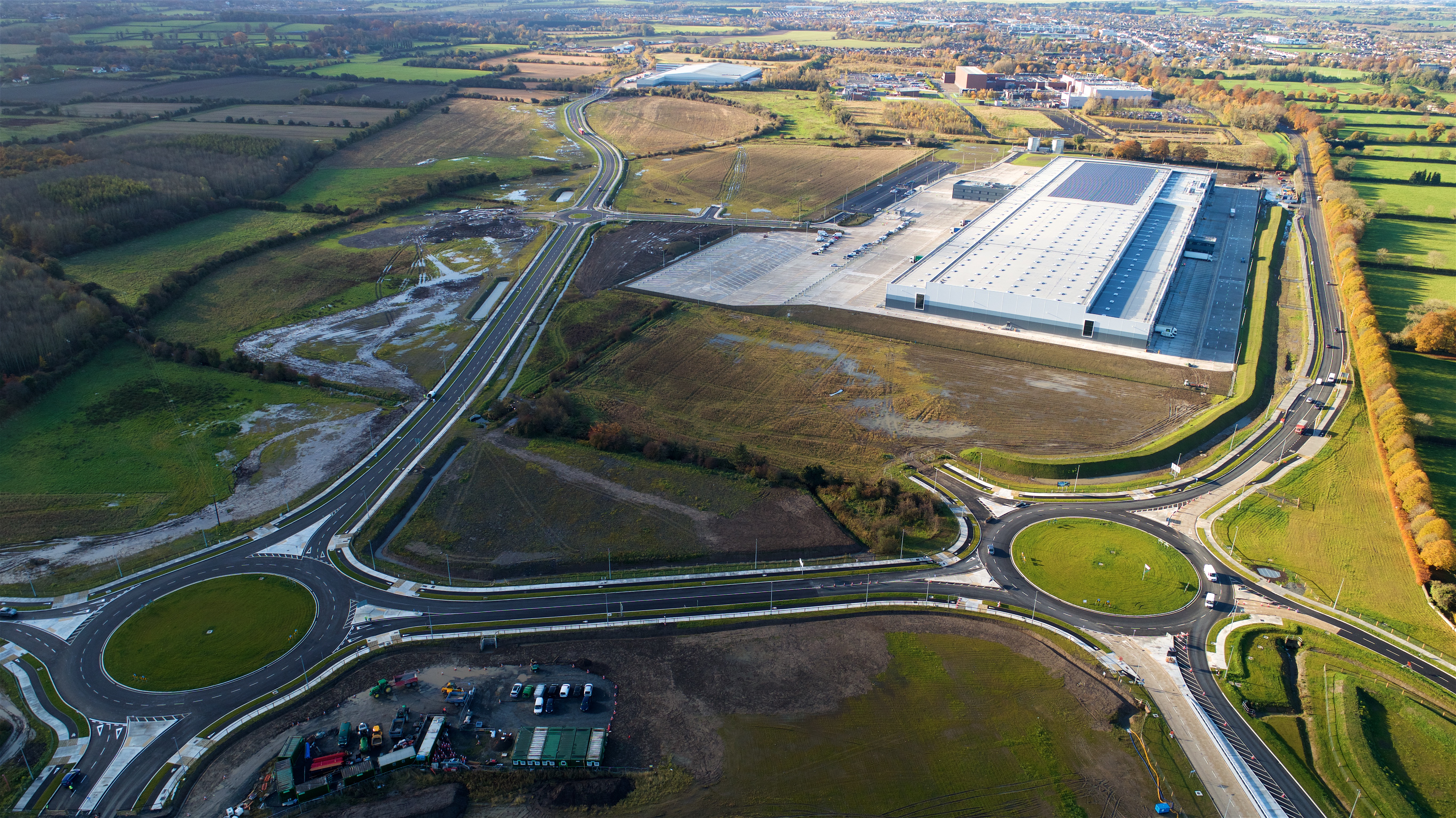 Increased efficiencies resulting from Lidl's €100 million investment in new distribution centre in Newbridge, Co Kildare
Lidl customers across Ireland can look forward to further savings on their weekly groceries following the opening of the company's new €100m Distribution Centre in Newbridge, Co Kildare.
The state-of-the-art facility, which represents the single largest investment made by Lidl in Ireland since 2000, is spearheading even greater efficiencies, which the supermarket is giving back to customers in the form of cost savings.
Effective from January 2020, Lidl customers will benefit from a price reduction on 500 products.
This follows a price reduction on over 250 products in the past six months.
The new distribution centre's increased capacity means it can store 49 million products through the streamlining of operations. Over 60% of these products will come from Lidl's 225-strong network of Irish suppliers.
The distribution centre has the capacity to serve Lidl's network of 90 stores in the Leinster area.
A feat in construction
The construction of this landmark development in Newbridge which, at 58,000m2, is one of the largest single buildings in Ireland, was managed by Irish firm, John Paul Construction following a competitive tender.
The project saw up to 2,000 construction jobs created during the construction phase, followed by the creation of a further 100 new full-time roles on completion. These new full-time positions are in addition to the 250 permanent staff who will move over from Lidl's existing distribution centre.
Energy efficiency is a key feature of the new distribution centre making it one of the most sustainable logistics facilities in Europe. Lidl invested €1m in its football-pitch-sized rooftop solar panel array – the largest on any building in the Republic of Ireland.
The solar panels will reduce the centre's carbon output by some 473 tonnes annually, which is the equivalent of taking 175 cars off the road every year. Over 25% of the new facility's energy requirements will now be generated by solar power.
Other sustainability initiatives at the centre include:
Heat recovery from refrigeration and only natural refrigerants
A commitment to 'zero waste to landfill'
Roof-mounted rainwater tanks collecting enough water to fill approximately 12,000 baths per annum
ISO 50001 certification, a globally recognised standard for best-practice energy management
The centre also boasts several important biodiversity features:
9,390 sq.m wildflower meadow to promote pollination and biodiversity
9,960 sq.m. woodland area with 5,700 native trees to Ireland
600 shrubs native to Ireland
Beehives, bat boxes and insect hotels
Speaking at the official opening of the new distribution centre in Newbridge, Minister for Finance Paschal Donohoe TD said:
"The commissioning of Lidl's new distribution centre is a huge investment by the company in Ireland and a vote of confidence in the economy. It is also a welcome development for the people of Kildare, who will benefit from the creation of 100 new jobs, in addition to the 250 people that Lidl already employs in the region.
"In particular, we welcome the company's decision to build a sustainable and future-proofed facility that does not generate landfill waste. It is proof that a business can be sustainable and tackle climate change while also generating revenue, driving efficiencies and creating jobs.
"Lidl's footprint in Ireland is significant. It is a committed investor in this country's shoppers, local communities, and the wider environment. My department is eager to see how this facility contributes to the local economy. I wish them every success in the years ahead."
J.P. Scally, Managing Director of Lidl Ireland and Northern Ireland, said:
"First and foremost, this new distribution centre is good news for our customers. By increasing our storage capacity and streamlining our supply chains we will achieve even higher levels of efficiencies and in turn deliver considerable savings to shoppers across the country. That means lower prices on the same quality produce, and more money back in our customers' pockets.
"It is important for us that we ensure our build is future-proofed and that we are expanding sustainably. By investing at the scale that we have, we've ensured that we have the ability to supply Ireland's growing population efficiently and consistently, long into the future."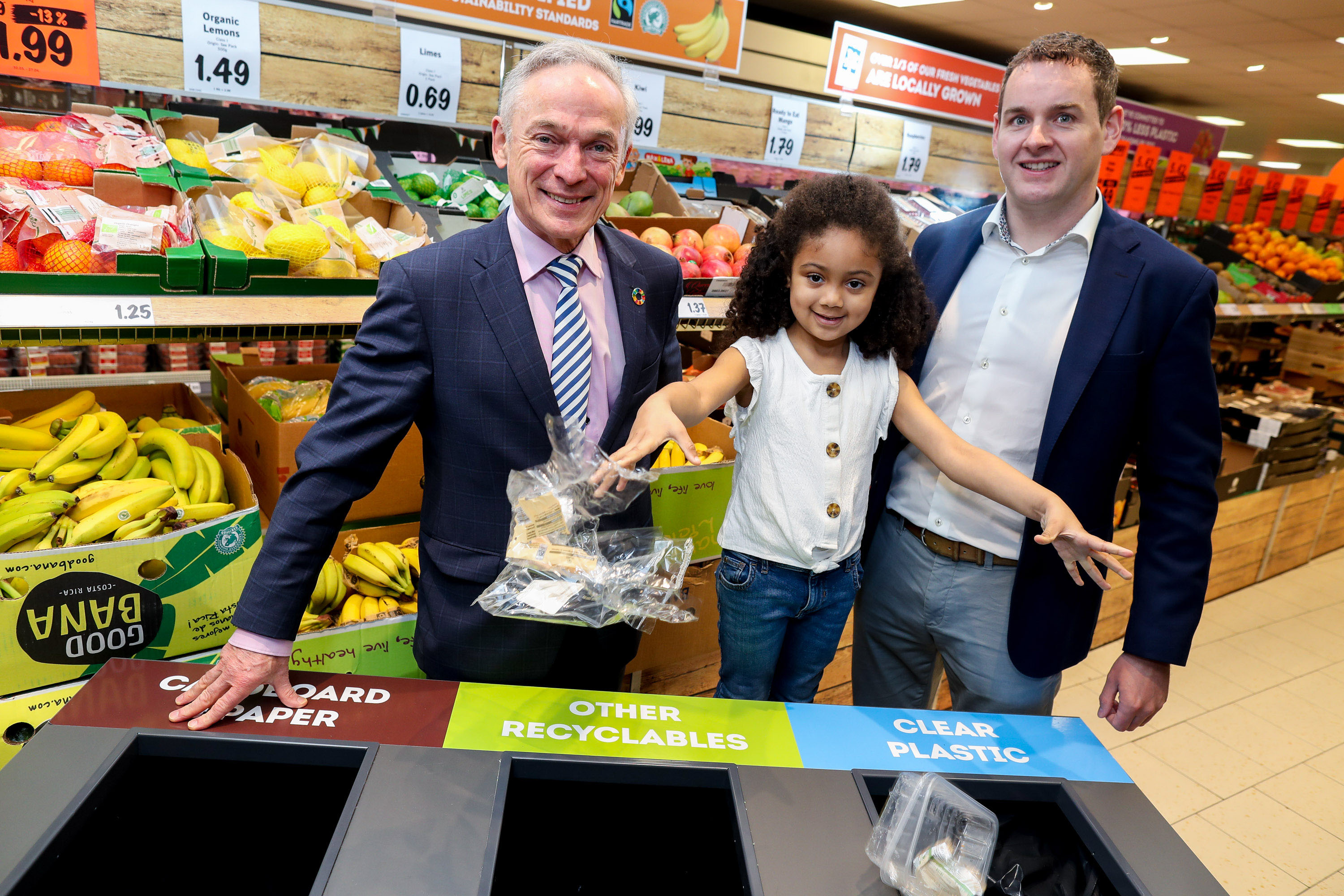 Lidl Ireland Becomes the First Irish retailer to Offer Customers Recycling Stations to Reduce Waste Bought In-store
Wednesday 10 April 2019: Lidl Ireland has, today, announced plans to become the first Irish retailer to offer customers in-store recycling stations nationwide to reduce packaging waste bought in-store. Lidl has committed to introducing segregated recycling stations at the end of customer checkouts in all 160 stores across Ireland. They will be rolled out from the start of May and will be available across all stores by May 31st 2019.
This market-leading initiative will offer Lidl's almost two million weekly customers the opportunity to remove any unwanted recyclable packaging and to recycle it free-of-charge in-store once they have completed their shopping, therefore avoiding any disposal costs associated with bringing the packaging home.
The launch of this nationwide initiative follows a trial of these recycling stations in three Lidl stores – Gorey, Greystones and Ballycullen – which proved to be a huge success with Lidl customers. Lidl anticipates that the countrywide rollout of these recycling stations will result in tonnes of plastic, cardboard and other recyclable materials being recycled across their store network.
The launch of the new in-store recycling stations was welcomed by Minister for Communications, Climate Action and Environment Richard Bruton T.D. Speaking at the launch Minister Bruton commented: "Industry leadership is key if we are to achieve a more sustainable lifestyle which is so crucially needed. This initiative launched by Lidl, will be welcomed by consumers and also send a signal through the supply chain to reduce unnecessary packaging. Working individually and collaboratively, the entire retail industry has a powerful role to play in tackling this issue."
Speaking at the launch of the planned nationwide initiative, Lidl Ireland Managing Director, J.P. Scally, said: "The introduction of in-store recycling stations for our customers is the latest step on our journey to tackle the important issue of plastic waste. We have already implemented several plastic reduction initiatives such as our decision to end the sale of many single use plastic items and the removal of unrecyclable black plastics from numerous categories across our range.
"We know from Repak research that Ireland is one of the leading recycling countries in the EU for packaging recycling, however Ireland's target is to increase to 65% by 2025.We want to play our part in supporting the country to achieve this target through our recycling stations nationwide.
"We're proud to be leading the Irish retail sector in implementing sustainable initiatives that benefit our environment, our communities and our customers. We're grateful for our customers support on this journey as well as the recognition received to date from the wider industry including winning Green Retailer of the Year at the Green Awards 2018."
This move is one of many steps that Lidl is taking as part of its plastic reduction strategy. Last year, Lidl discontinued the sale of single-use plastic items including drinking straws, disposable plates, cups and cutlery, with plastic-stemmed cotton buds next on the list in the coming months. The single-use plastic items are being replaced with biodegradable alternatives, saving 2.2 million straws and 1.6 million plastic plates and cups and 75.1 million individual cotton buds from Lidl's 160 stores across Ireland annually.
Lidl has also committed to several ambitious plastic reduction targets, including using 20% less plastic packaging by 2022 and having 100% recyclable own-brand packaging by 2025. The move is one of many steps that the retailer is taking as part of its plastic reduction strategy. For the second consecutive year the company confirmed it had achieved 'zero waste to landfill' and announced an end to microbeads in all cosmetic and household ranges.
Lidl's work in creating a better tomorrow for the communities in which it operates in has been recognised and applauded externally, in 2018, Lidl was awarded the coveted 'Outstanding Achievement in Corporate Social Responsibility' at the Chambers Ireland CSR Awards, retained the award for Excellence in Environment and also won the Excellence in Community. Also, in 2018, the retailer picked up the 'Green Retailer of the Year' and 'Excellence in Waste Management' awards at the Green Awards 2018 as well as the 'Business Recycling Champion' at the 2017 Pakman Awards.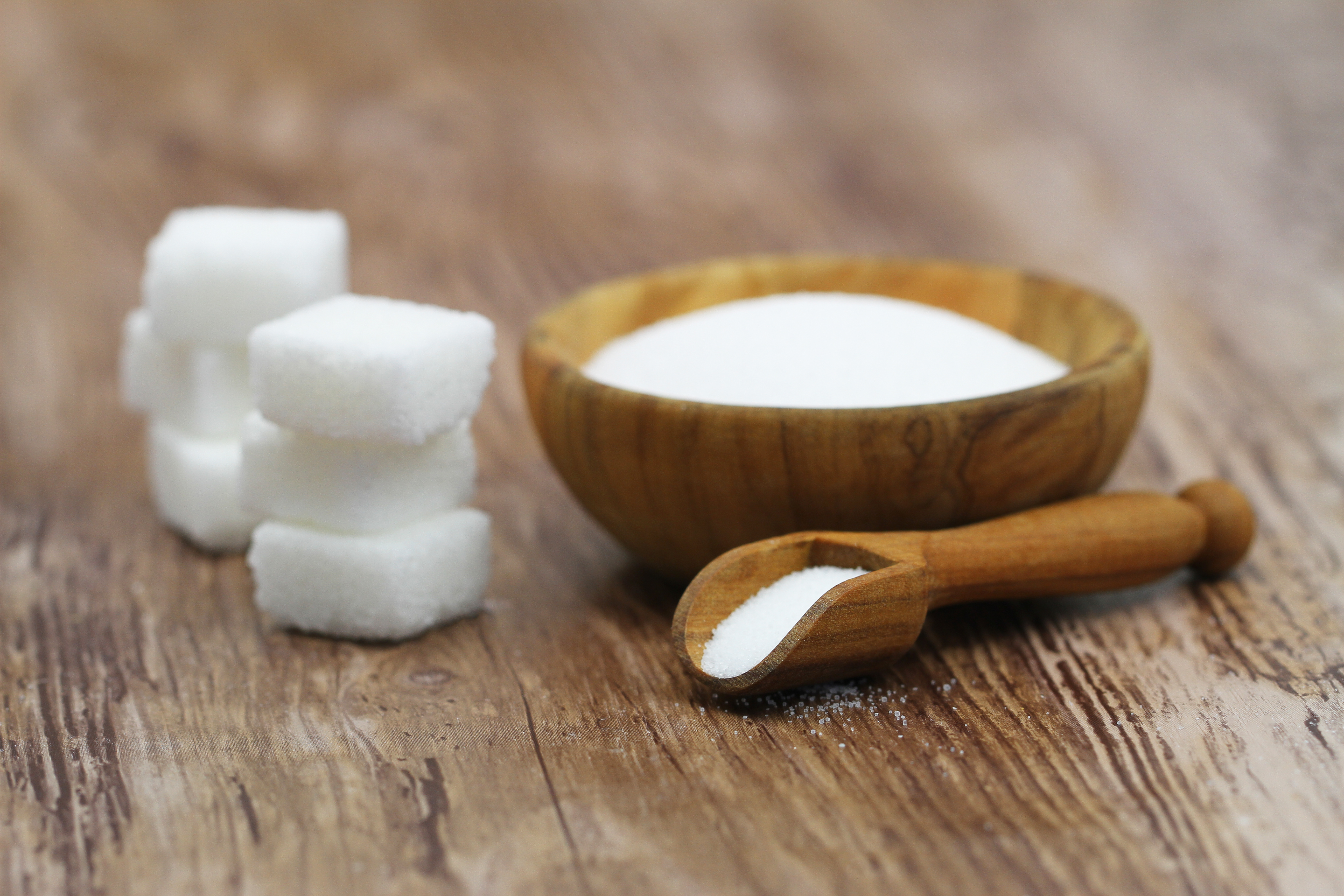 Lidl Ireland Commits to Significant Salt & Sugar Reductions by 2020
Lidl Ireland has today announced that over 850 own-brand products (over 30% of the product range) are currently being assessed as the retailer commits to a 20% reduction in added sugar content as well as reducing salt levels in accordance with best practice standards* by the end of 2020.
A recent Health and Nutrition Policy published by Lidl Ireland outlines the strategy for reducing the sugar and salt content in own brand products in response to the Irish Government-led initiative, Healthy Ireland, in particular the Obesity Action Plan and as a direct response to customer's demand for healthier food choices.
In an effort to actively promote healthier nutrition to customers across all stores in Ireland, Lidl has set the following targets;
Sugar: Lidl Ireland will reduce the added sugar content in own brand products by 20% by the end of 2020 focusing primarily on foods that are popular with and consumed by children. Food categories such as breakfast cereals, spreads, sauces, and sweet confectionery will be a major focus. Lidl Ireland will be reviewing approximately 350 own brand products in order to reach this sugar target.
Salt: Lidl Ireland will reduce the salt content of own-brand products in line with the UK's Food Standards Agency (FSA) 2017 salt targets by the end of 2020. The reduction of salt first focuses on food categories that are consumed on a regular basis and generally make up a large share of the daily salt intake including; ready meals, soups, pizzas, crisps, cakes and meat products. Over 500 of Lidl Ireland's own brand products will be reviewed to reach this salt target.
Minister for Health, Simon Harris TD commented; "The food and retail industry can make a positive contribution to the prevention of obesity, so it's important we work in partnership to achieve a reduction in the amount fat, salt and sugar in foods eaten regularly by consumers.
I want to commend Lidl for this initiative to reduce the sugar and salt content of many of their own brand products to help create a healthier food environment. This is something I hope others will replicate."
Liam Casey, Commercial Director at Lidl Ireland said, "Promoting and providing healthier food options for our customers is something we are passionate about at Lidl Ireland and we are proud to be leading the way in the Irish retail market with our significant commitments. Our recent Health and Nutrition Policy underlines our commitment to Government-led initiatives and we are delighted to have the support of Minister Harris during its launch."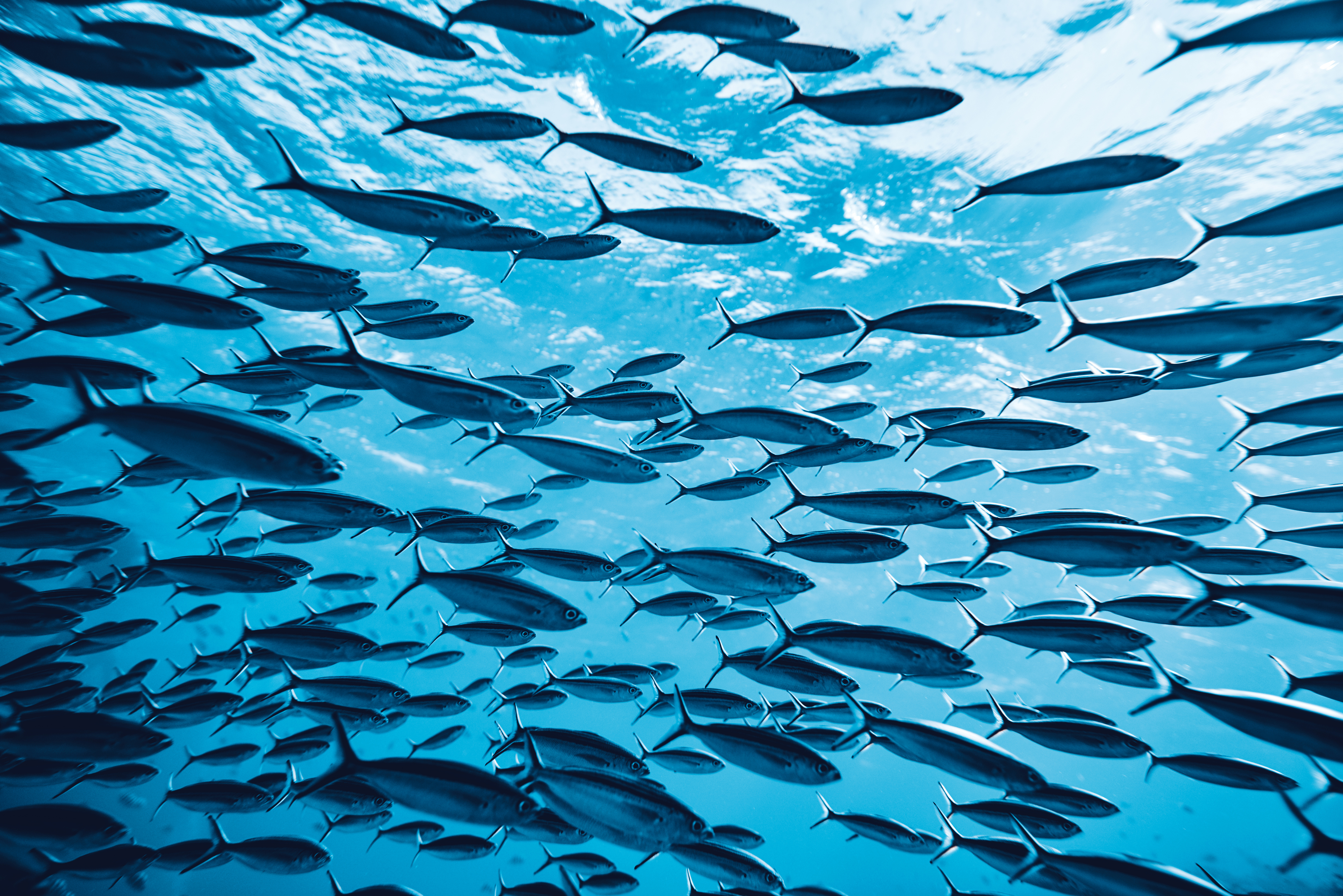 Lidl Ireland and Northern Ireland commits to 100% Responsibly Sourced Fish by the end of 2019
Lidl Ireland has committed to providing 100% responsibly sourced fish through its growing network of 159 stores across Ireland by the end of 2019.
33% of global fisheries have been fished beyond sustainable limits due to overfishing and illegal fishing. While the world's population continues to grow, it is expected that the demand for fish will continue to put further pressure on global fish stocks. Consumers have become increasingly aware of environmental and social issues in food supply chains and are adjusting their shopping habits to be more responsible with their purchases. With this in mind, in recent years Lidl has worked closely with suppliers to develop their responsible sourcing policies in many product categories including fish.
Already, 80% of wild caught chilled and frozen fish available at Lidl Ireland is certified to the Marine Stewardship Council (MSC*) standard. The MSC is an independent, non-profit organisation established to address the problem of unsustainable fishing and safeguard seafood supplies for the future.
At present, 65% of Lidl's farmed fish is sourced from independently certified sustainable fisheries (ASC* or GLOBAL G.A.P.*) – this will increase to 100% by the end of 2019. 100% of Lidl's canned tuna is already responsibly sourced using either the 'pole and line' fishing method, FAD-free (Fish Aggregating Devices) fishing methods or is MSC certified.
Commenting on Lidl's commitment, George Clark, Senior Commercial Manager UK & Ireland at the Marine Stewardship Council said: "It is fantastic to see such strong commitment to providing customers in Ireland with certified sustainable seafood. By offering a wide range of sustainable species and 80% of their current chilled and frozen wild range being MSC certified, Lidl is already providing consumers an excellent choice when in store. By choosing products with the MSC logo, Lidl shoppers are helping protect our oceans for future generations."
To meet this goal, Lidl has been working closely with their Irish suppliers, including Bantry-based Keohane's Seafoods. Lidl first began working with the family-owned business in 2012, enabling them to expand and grow their business. Seven years later, the company now has 160 employees across two facilities in Cork City and Bantry. Keohane's Seafoods supplies a range of products to all Lidl stores across Ireland and Northern Ireland. Earlier this year, Keohane's Seafoods signed a contract to supply packaged salmon darnes to 120 Lidl stores in the UK.
Mike Keohane, Managing Director, Keohanes's Seafoods said: "We have established a long term partnership with Lidl that has enabled us to develop our business and are proud to work closely with Lidl to ensure our seafood products are certified to sustainability programmes. We are also working with Lidl towards sustainable packaging including moving away from unrecyclable black plastic which will be hugely impactful."

Liam Casey, Commercial Director at Lidl Ireland said, "Safeguarding fish stocks for the future is an issue we are passionate about at Lidl and we are proud to be leading the way in the Irish retail market with our commitments. Our fish sourcing policy underlines our commitment to responsible sourcing through our certifications as well as our support for Irish Fishery Improvement Projects (FIPs) with Bord Iascaigh Mhara (BIM). We have also joined the Global Ghost Gear Initiative (GGGI)*, a global cross-sectoral alliance committed to driving solutions to the problem of lost, abandoned and otherwise discarded fishing gear (also known as "ghost gear"), which accounts for about 10% of plastic pollution in the sea. We look forward to making further progress with the wider sector in our collective aim to drive transparency and safeguard fish stocks for the future."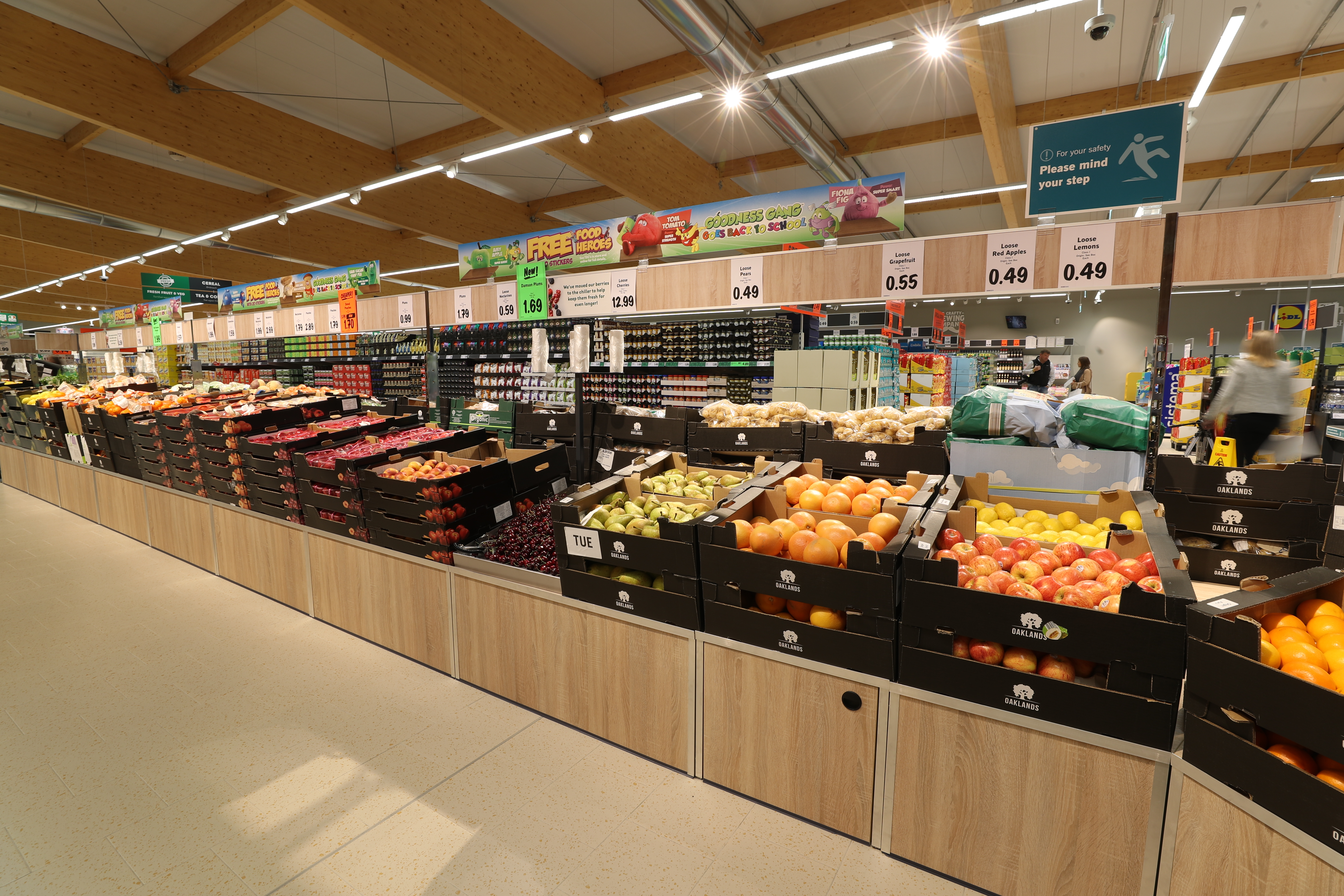 Lidl Ireland and Northern Ireland Scraps Unrecyclable Black Plastic Packaging
Monday October 8th – Lidl confirmed today it is removing black plastic packaging from its entire fruit and vegetable range across all 195 Ireland and Northern Ireland stores before Christmas.
The packaging, which cannot be recycled, will be scrapped from fresh fish products by February 2019, followed by fresh meat, poultry and cured meat ranges before August.
Black plastic packaging is not recycled in Ireland or the UK because recycling sorting systems cannot detect the carbon black pigment.
As a result of this move by Lidl, over 65 tonnes of black plastic waste will be avoided annually from fruit and vegetables alone.
Lidl, named Ireland's 'Green Retailer of the Year 2018', said it has also today scrapped the sale of single-use plastic items including drinking straws, disposable plates, cups and cutlery, with plastic-stemmed cotton buds next on the list in the coming months. The single-use plastic items are being replaced with biodegradable alternatives.
No other supermarket on the island of Ireland has committed to such firm and imminent commitments in relation to either type of plastic.
"These are significant steps," Lidl Ireland & Northern Ireland Managing Director, J.P. Scally said. "Sustainability is core to our business and we are proud to continue leading the retail sector in implementing ambitious measures which will deliver real and lasting benefits for everyone."
The move is one of many steps that the retailer is taking as part of its plastic reduction strategy.   Already this year the company confirmed it had achieved 'zero waste to landfill' and announced a ban on microbeads in all cosmetic and household ranges.
It also published several ambitious plastic reduction targets, including using 20% less plastic packaging by 2022 and having 100% recyclable own-brand packaging by 2025.
Lidl will also continue to trial more unpackaged fruit and vegetable options – the recent addition of 17 new loose items means that more than 25% of its fresh produce range is now package-free.
The new measures reinforce Lidl's award-winning track record on sustainability. This October, Lidl Ireland was awarded the coveted 'Outstanding Achievement in Corporate Social Responsibility' at the Chambers Ireland CSR Awards, while Lidl Northern Ireland won the 'Excellence in Corporate Social Responsibility' award at the 2018 Belfast Telegraph Business Awards.
"These announcements are a clear signal of our commitment to safeguarding the environment and to managing our operations in the most progressive and sustainable way possible. It's important and right that we act decisively and proactively in this area and take meaningful and measurable steps that matter to us, our customers and our communities," J.P. Scally said.
Lidl takes the lead in Plastic Reduction
Responsible sourcing
All of Lidl's bananas are responsibly sourced and certified to sustainability programmes, such as Rainforest Alliance, Fairtrade and Organic. Lidl is the leading retailer in Ireland for Fairtrade and Organic banana sales. Working in conjunction with their Irish supplier Global Fruit, Lidl has been sourcing their bananas from a family business called Fresh Fruit in the Dominican Republic for over 10 years. The family business, Fresh Fruit, has been growing organic bananas for 15 years. Their plantation, Paradise Produce in the Northern town of Guayubin, is a Fairtrade plantation ensuring that Irish consumers are contributing to fair pricing and sustainable development in the Dominican Republic.
Plastic packaging
Lidl has been working towards ambitious commitments in relation to plastic packaging reductions and increasing the recyclability of its materials. Taking this challenge in hand, our Fruit and Vegetable team have been working with the banana suppliers, Global Fruit and Fresh Fruit, to develop an innovative solution to remove the plastic packaging on the 2.5 million Fairtrade Organic bananas sourced in the Dominican Republic for Lidl customers. The biodegradable banding, with a natural adhesive, completely eliminates plastic and holds the product in bunches with the Fairtrade, Organic messaging, and barcode. It is the first solution of its kind in Ireland and it minimises plastic volumes by 10,000 kilos yearly. Fairtrade and Sustainability On-Farm Trade in bananas is a cornerstone of the economies of many developing countries. However, the social problems can be complex and can range from low wages to bad conditions. Fairtrade ensures that farmers receive a fair price for their bananas and that the premium is invested back into the communities. In the Dominican Republic, the Fairtrade premium is used to support banana workers' livelihoods , which can amount to between one and two months extra wages. The Fairtrade premium contributions of Lidl customers also support a primary school in Mao Valverde, providing high-quality education to more than 50 children through a project called Bambini.
THIS YEAR LIDL HAS MADE THE FOLLOWING PLASTIC PACKAGING COMMITMENTS:
• By 2022, Lidl will reduce plastic packaging volumes by 20%
• By 2025, 100% of own-brand packaging will be widely recyclable, reusable, or renewable
• By 2025, 50% of material used in own- brand packaging will come from recycled materials.
• They have banned microbeads from cosmetic and household products
• By the end of 2019, Lidl will discontinue the sale of single use plastic items, including plastic
drinking straws, disposable cups and glasses, plates and cutlery and plastic-stemmed cotton buds
Timber and Wood-Based Products
Timber and wood-based products come from forests, the world's largest and most important ecosystem.
Unfortunately, many forest are under threat of deforestation and degradation from forest fires, unsustainable logging for timber, clear-cutting for agriculture, ranching and development. At Lidl, we want to ensure that our timber and wood-based articles, viscose fibres and packaging are sourced responsibly. Our goal is to ensure we minimise our environmental and social impact by sourcing from sustainably managed woods, certified labels and from recycled materials.
Our Commitments
By 2020 all our own-brand wood and paper-based products will be from either recycled wood fibre sources or FSC or PEFC certified sources
By 2020 all our own-brand textiles that contain viscose will be LENZING ECOVERO and EU Eco label certified
By 2025, we aim to source all primary, secondary and tertiary packaging from either FSC, PEFC and/or recycled sources
Plants and Flowers
Ireland's climate provides ideal growing conditions for a large range of garden and landscape plants, however the flowers and plants industry is global. Most of the plants come from the Netherlands and from countries where climate conditions are more favourable for growing all year around such as Colombia, Ecuador, Kenya and Ethiopia.
We want our buying power to drive positive change for producers, communities and the environment. We work with internationally recognised certifications to ensure that our products are produced with best practices ethically and environmentally.
Our Commitment
By 2020, we commit to source 100% of our flowers and plants certified to environmental (GLOBAL.G.A.P, Bord Bia's Ornamental Standard, BOOP) and to social standards (Fairtrade, GLOBAL.G.A.P Grasp module, SA 8000).
Human Rights & Ethical Trade
To ensure we are upholding the rights of people impacted by our business and continually driving improvements, we have adopted a range of approaches and have integrated our targets across the business.
We underpin our business operations with strong, long term relationships, making sure that we work with our suppliers to address any challenges they may face. Our core standards are outlined in our Supplier Code of Conduct, which is fundamental to the relationship between Lidl and its contracted Business Partners. It defines the social expectations of all global direct and indirect suppliers and forms an integral part of our commercial contracts.