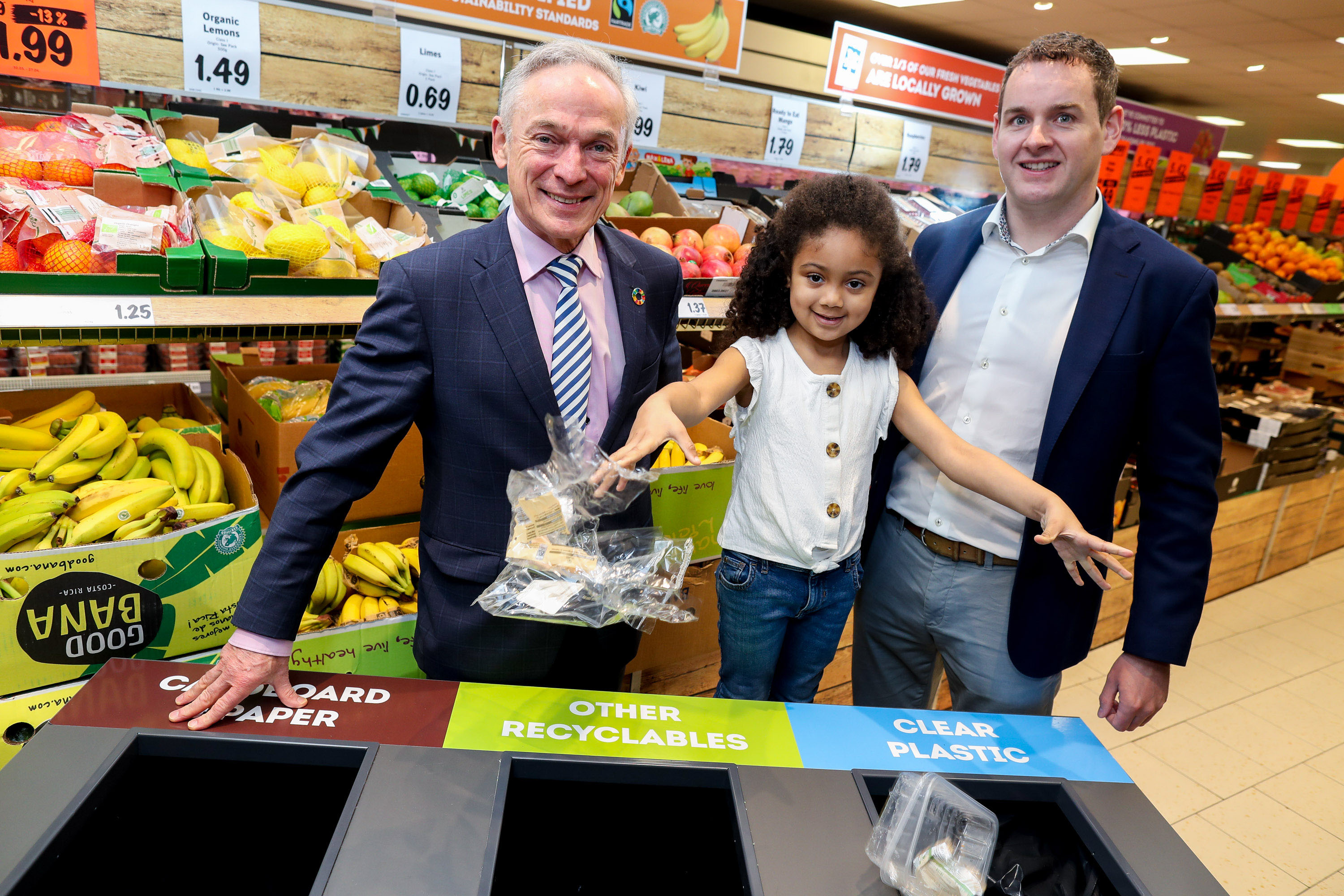 Lidl Ireland Becomes the First Irish retailer to Offer Customers Recycling Stations to Reduce Waste Bought In-store
Date published: 11th April 2019
Wednesday 10 April 2019: Lidl Ireland has, today, announced plans to become the first Irish retailer to offer customers in-store recycling stations nationwide to reduce packaging waste bought in-store. Lidl has committed to introducing segregated recycling stations at the end of customer checkouts in all 160 stores across Ireland. They will be rolled out from the start of May and will be available across all stores by May 31st 2019.
This market-leading initiative will offer Lidl's almost two million weekly customers the opportunity to remove any unwanted recyclable packaging and to recycle it free-of-charge in-store once they have completed their shopping, therefore avoiding any disposal costs associated with bringing the packaging home.
The launch of this nationwide initiative follows a trial of these recycling stations in three Lidl stores – Gorey, Greystones and Ballycullen – which proved to be a huge success with Lidl customers. Lidl anticipates that the countrywide rollout of these recycling stations will result in tonnes of plastic, cardboard and other recyclable materials being recycled across their store network.
The launch of the new in-store recycling stations was welcomed by Minister for Communications, Climate Action and Environment Richard Bruton T.D. Speaking at the launch Minister Bruton commented: "Industry leadership is key if we are to achieve a more sustainable lifestyle which is so crucially needed. This initiative launched by Lidl, will be welcomed by consumers and also send a signal through the supply chain to reduce unnecessary packaging. Working individually and collaboratively, the entire retail industry has a powerful role to play in tackling this issue."
Speaking at the launch of the planned nationwide initiative, Lidl Ireland Managing Director, J.P. Scally, said: "The introduction of in-store recycling stations for our customers is the latest step on our journey to tackle the important issue of plastic waste. We have already implemented several plastic reduction initiatives such as our decision to end the sale of many single use plastic items and the removal of unrecyclable black plastics from numerous categories across our range.
"We know from Repak research that Ireland is one of the leading recycling countries in the EU for packaging recycling, however Ireland's target is to increase to 65% by 2025.We want to play our part in supporting the country to achieve this target through our recycling stations nationwide.
"We're proud to be leading the Irish retail sector in implementing sustainable initiatives that benefit our environment, our communities and our customers. We're grateful for our customers support on this journey as well as the recognition received to date from the wider industry including winning Green Retailer of the Year at the Green Awards 2018."
This move is one of many steps that Lidl is taking as part of its plastic reduction strategy. Last year, Lidl discontinued the sale of single-use plastic items including drinking straws, disposable plates, cups and cutlery, with plastic-stemmed cotton buds next on the list in the coming months. The single-use plastic items are being replaced with biodegradable alternatives, saving 2.2 million straws and 1.6 million plastic plates and cups and 75.1 million individual cotton buds from Lidl's 160 stores across Ireland annually.
Lidl has also committed to several ambitious plastic reduction targets, including using 20% less plastic packaging by 2022 and having 100% recyclable own-brand packaging by 2025. The move is one of many steps that the retailer is taking as part of its plastic reduction strategy. For the second consecutive year the company confirmed it had achieved 'zero waste to landfill' and announced an end to microbeads in all cosmetic and household ranges.
Lidl's work in creating a better tomorrow for the communities in which it operates in has been recognised and applauded externally, in 2018, Lidl was awarded the coveted 'Outstanding Achievement in Corporate Social Responsibility' at the Chambers Ireland CSR Awards, retained the award for Excellence in Environment and also won the Excellence in Community. Also, in 2018, the retailer picked up the 'Green Retailer of the Year' and 'Excellence in Waste Management' awards at the Green Awards 2018 as well as the 'Business Recycling Champion' at the 2017 Pakman Awards.
Also in the news:
Date published: 15th September 2021
Gaisce – The President's Award are celebrating 35 years and Lidl Ireland are marking it with the largest ever pollination…
Date published: 19th May 2021
The announcement comes in celebration of World Bee Day, 20th May 2021 Following the debut of the retailer's first Pollinator-Friendly…