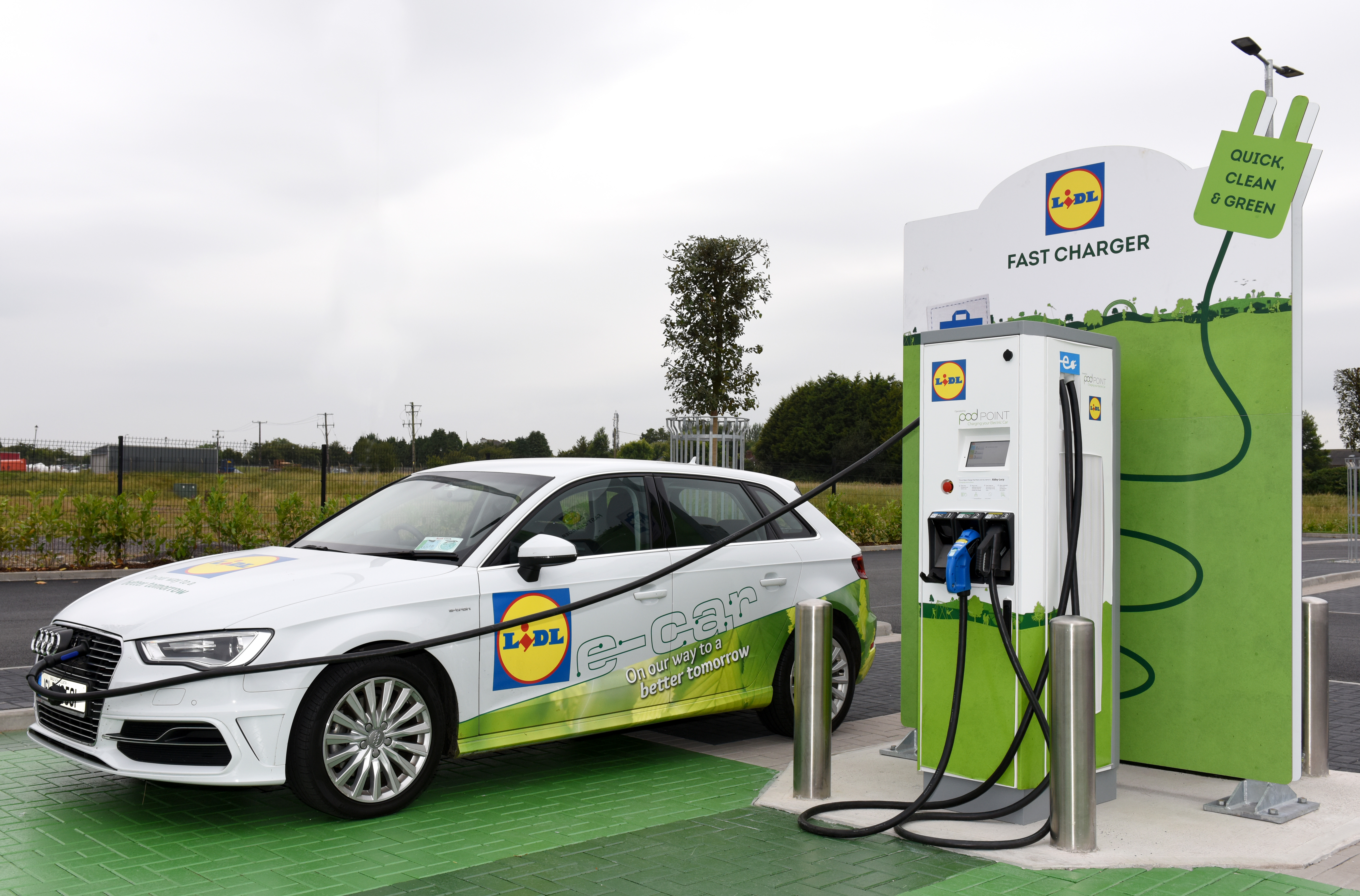 Lidl Ireland Commits to the Largest Network of Electric Vehicle Charging Points across Irish Supermarket Sector
Date published: 9th August 2018
Today, Lidl Ireland announces its commitment to the introduction of electric vehicle charging  points to all new Lidl  stores and across all major store refurbishment projects. This announcement means that Lidl will provide the largest network of electric vehicle chargers in the Irish supermarket sector, enabling customers to charge their electric vehicles  free of charge whilst they shop.
The move is part of Lidl's Renewable Energy Programme and 'A Better Tomorrow' sustainability strategy. This latest sustainability initiative means Lidl will provide over 40  electric vehicle charging facilities in 20 stores across Ireland within the next 6 months.
Lidl has already installed, and trialled electric vehicle charging points at the Rathfarnham, Drogheda and Swords stores and will retrofit the technology to its stores in: Cabra; Tallaght; Glenageary; East Wall; Gorey; Wilton; Virginia; Magherafelt; Lurgan and Andersonstown across the coming months.
Electric vehicle charging points will also be installed at all locations where Lidl is currently building new store developments: Belgard Road, Tallaght; Fortunestown; Sligo; Nenagh; Childers Road, Limerick; Birr and Antrim.
Announcing the commitment to introduce electric vehicle charging points  at Lidl stores across Ireland, Alan Barry, Director of Property and Central Services, Lidl Ireland, said:
"At Lidl, we are delighted to be leading the way in environmental sustainability and are today committing to providing  40 electric vehicle charging points across 20 stores within the next 6 months.  Business must act responsibly, and Lidl will lead the way by installing electric vehicle chargers in all new store builds and investing over €150,000 in our Electric Vehicle Charging Programme. 
Electric vehicles are indispensable in addressing the major challenges of improving air quality and curbing the use of fossil fuels. With more and more customers shopping with us every week, we hope that the  expansion of the network of public charge points will make electric vehicles more attractive to customers whilst further enhancing our customer experience. What's great is they're also free for our customers!
The electric vehicle charging point at our Drogheda store, for example, provides on average 100kms of free driving range per charge and is currently charging over 4000kms a week."
Transport accounts for one third of Ireland's energy requirement and energy related CO2 emissions with electric vehicles offering a more sustainable transport solution. The National climate-change-mitigation plan aims to increase the number of electric vehicles on Irish roads to 500,000 by 2030. The SEAI and the Department of Communications, Climate Action and Environment expect sales will jump over the next few years, as more manufacturers introduce mass-market models.
Welcoming Lidl's commitment to introduce electric vehicle chargers, Jim Gannon CEO, Sustainable Energy Authority Ireland,  said:
"With the vehicle and home charging grants available from SEAI it is becoming increasingly appealing for motorists to consider the switch to driving electric. SEAI welcomes Lidl's commitment to supporting sustainable transport. The number of electric vehicles on Ireland's roads are growing rapidly and, with this increase, all additions to the electric vehicle charging infrastructure are very welcome. While we recognise that the majority of charging may take place at home, initiatives such as this from Lidl will help to provide confidence in the charging network and ensure that there are sufficient charging locations available for a growing number of electric vehicle users."
Also in the news:
Date published: 15th September 2021
Gaisce – The President's Award are celebrating 35 years and Lidl Ireland are marking it with the largest ever pollination…
Date published: 19th May 2021
The announcement comes in celebration of World Bee Day, 20th May 2021 Following the debut of the retailer's first Pollinator-Friendly…